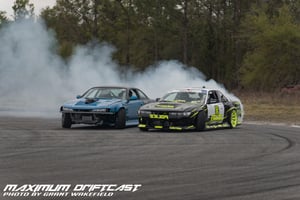 $

200.00
Tired of the off season? Join me, Officer Dan in a basic to intermediate level drift school. This is a bring your own car event, though I may have some people there to rent their cars. Please bring at least 2 sets of tires. You must be on time! We will be moving quickly so if you miss something, it's on you.
This event is capped at 10. If more than 10 register, I will bring in another x formula d driver to teach group 2.
Price is $200 per driver.
Course outline:
45 mins of classroom
- track etiquette
- basic vehicle dynamics
- suspension setups
- drifting techniques
- tandem ettiquite
1.5 hours Skid pad activities (observation) with individualized feedback
- donuts around single cone both directions
- figure 8s both directions
- large continuous circles
- large figure 8s
- small skidpad course
1.5 hours On track
- Initiation techniques
- vision and clipping point awareness
- maintaining smooth drift
- advanced braking techniques
1 hour of open lapping observation and feedback
15 minute closing classroom session
If you want 1 on 1 lessons after, that's 300 per driver per hour.
Link for reserved spots will be up soon.
Love you all,
Dan